King James Study Bible: read, listen and share the Holy Word on your smartphone.
Welcome to King James Study Bible, best app to study the Holy Bible. This app offers the free KJV (King James Version) with commentary on the whole Bible.
We offer you a unique tool to improve your Bible study, either alone or in your study group. This Bible with commentaries will help you to better understand the most difficult passages of the Bible.
Download now totally free! Bring the beauty and wisdom of the Bible into your daily life. Start today reading and studying the Holy Bible!
Benefits of the application: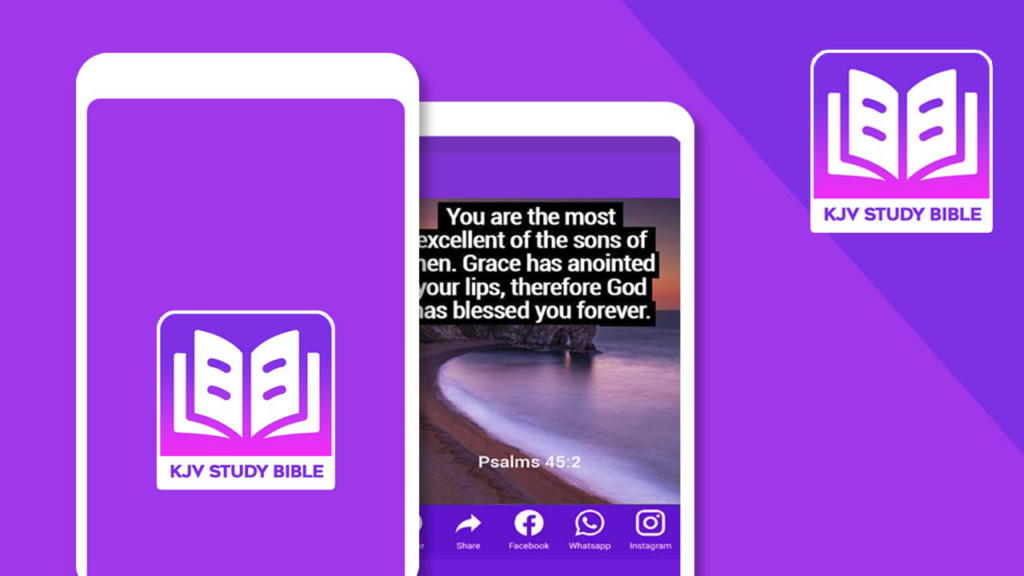 Free for download and use
Completely new and user-friendly interface
Complete text of the KJV, King James Version with Matthew Henry's six volume complete commentary
The app works without Internet connection
Audio Bible: Hear the Bible in high quality audio in your own language. Try listening to daily passages of the Bible on your phone!
More features:
Ability to adjust text size to read easier
Highlight your favorite verses
Bookmark passages in colors
Create favorites lists
Copy and paste the passages you like
Set night mode to prevent eye strain
Receive personal verses for inspiration:
-When we read the Bible, we listen what God has to say to us. You can receive personal verses delivered every day to your phone. The best way to start the day! Try it for free!
-The Bible changes hearts and lives. Share it with friends and family. Start today: send them beautiful verses by email, Messenger or WhatsApp
All the features are free!
Start today reading the Holy Bible! Here you'll find the complete list of the Books of the Old and the New Testament:
The Old Testament is composed of 39 books: Genesis, Exodus, Leviticus, Numbers, Deuteronomy, Joshua, Judges, Ruth, 1 Samuel, 2 Samuel, 1 Kings, 2 Kings, 1 Chronicles, 2 Chronicles, Ezra, Nehemiah, Esther, Job, Psalms, Proverbs, Ecclesiastes, Song of Solomon, Isaiah, Jeremiah, Lamentations, Ezekiel, Daniel, Hosea, Joel, Amos, Obadiah, Jonah, Micah, Nahum, Habakkuk, Zephaniah, Haggai, Zechariah, Malachi.
The New Testament is composed of 27 books: Matthew, Mark, Luke, John, Acts, Romans, 1 Corinthians, 2 Corinthians, Galatians, Ephesians, Philippians, Colossians, 1 Thessalonians, 2 Thessalonians, 1 Timothy, 2 Timothy, Titus, Philemon, Hebrews, James, 1 Peter, 2 Peter, 1 John, 2 John, 3 John, Jude, Revelation.
Larry Adams
This is just what I was looking for in my studies and reflection on the Word! Very user-friendly, easy to write notes in, decent customization options, wide selection of reading plans, works great offline with no ads, and the audio is nice as well. My only complaints is that the pro version is rather expensive when all it does is remove ads while using the internet, and that there should be an option to download audio for a whole single book of the Bible at once.
Berry Knows
I absolutely love your daily power verse. Almost always on point with what I need at that moment. I love all your features as well very! I do have a suggestion, Searching in your app is a little rough. I can't really find the verses I am looking for with out having to go online to look. That is really disappointing, but your app is still really great. I think if you upgrade the search bar and the apps ability to find scriptures, you'd really improve your app. But I love your app other than that.
K C
So many features, I can't expound on them all! I do want to express my appreciation for the option to change the "paper" color. My eyes are extremely light sensitive and white backgrounds actually cause me pain, even with my device's brightness turned all the way down. With the softer tone behind the text, reading is much more comfortable. Thank you!
Richard Saint
Has day/night mode words can be made easier to read by changing color and font and allows the Living Word of Yahwah to be taken anywhere. Usable offline and should be used with a Stong's Concordance! P.S. l don't like the new format. I prefer the page being able to turn by pressing the arrow rather than having to swipe the bottom of the page. If you're not precise it doesn't work!
Angela Willis
This is by far the best Bible app. I have seen. I think one of the few things that might make it better would be to have parallel version and a concordance to give the reader a better understanding of what certain scriptures mean. Or something simular. I love the different highlights you are able to use and that you can keep track of your Bible reading. Then you can also take notes and bookmark with your own words. I love this Bible app ❤ more to say but running out of room
Jaime Thomas
I'm glad to incorporate Gods words into this aspect of my life "phone", though I mostly prefer the paper pages in my hands. The app has its conviencies and is easier for me to navigate through. No doubt I'll gradually use it more regularly too. Want to thank you for putting this out in the "internet world". And it may be the only thing on my device I don't even have to be connected in the line to open app… That's powerful. Love it.
trish jellerson
Sometimes it's hard to get out of the app but it's ok I just restart my phone. Love being able to understand the Bible so much better with this fantastic narrator ! And live highlighting a verse and being able to not only share to Facebook but I can lay a verse over one of my personal photos ! I use a lot of beach photos I've taken at Clearwater Beach.
Louis Amstrong
The best most comprehensive KJV app I've encountered. Attractive, easy to use, with all kinds of options. Love the night look, the font size control, and especially the sharing features. Unlike a lot of KJV apps I've tried, you can share more than one verse at a time. Further, unlike so, so many apps, this once cites the verses for you as psrt of sharing. I could not be more happy!
Francis Chin
Finally an app that displays the magisterial King James Bible. Even more amazing it has audio with a clear male voice narrating the text just like the way Billy Graham read it at his Gospel rally. The narrator sounds like a professional actor but there is no credit line. With this app there's no need to go to church to listen to the Word of God! Anyway there are precious few churches nowadays where the inspiring King James Bible is used. I'm nauseated by the tepid modern day translations!
david8506
This is the best Bible app I have ever seen. With the way that it is set up and my willingness to read the Bible from cover to cover will be something that I can finally achieve. From the daily verses to being able to highlight versus and go back to them and then also having the Bible read to me.
Patrick Douthit
Very excellent way to study and examine the word of god for clarity. Easy to find chapters and verses using drop down menus. I just started using it and I am impressed and very happy with it so far. Thanks
Sasqautch117
It's hard to find a an app that teaches the Bible for what it is without all the extra stuffs and themes. Although this has ads it's only when you exit the page your reading. And their not video ads which is better🙂
Nora Johnson
Lost this app as a result of formatting my phone…and so, I searched for weeks to retrieve it! I've missed my daily devotionals, daily bible verse and daily readings 😭 I am so lucky a church member shared a bible verse to our church group! Imagine how happy I was when I realised it led me straight to my lost app? Thank God! Since, there are a lot of KJV bible apps in the market, is there a way this could be linked to a cloud store or something, in the event as the one I just had?
sistermaide
Daily verses, are kind of nice, and several times a day is a good reminder. However, some of them seem to me, to be random picks, as I can't see any topic worth reading, on only that one verse.
Anthony Dotsey
The progress tracking function is absolutely superb. Gives a lot of encouragement to read the Bible as often as possible. Growth in the Word is very necessary.
OluwaSanmi Abiodun
The audio is very clear and I enjoy it very well. Although, there are ads pops up at the bottom line, they are very minimal and you can still fully concentrate listening and reading along with the audio. I think it deserves five star rating.
Tendai Chabvemhiri
I love and appreciate the study tools that are in the application particularly the dictionary. It helps me understand the word and its deep meaning. I do not appreciate the ads though.They are not even relevant to the purpose of the application.Better show ads that are relevant to the application like Bible story books etc.
Naisha Henderson
I am still new to this app and new to Bible study and readings. However, because the many study aides, options, and built in dictionaries along with progress keeping and audio content offered I'm well on my way to knowing better the Bible and enjoying the experience.
ARR PEATZUN
Version 2022 is much improved. Many ways to add notes and highlight and easily move from book to book and easily have it read to you. Quite Impressive- even compared to unrelated standard apps. This design was someone's proud masterpiece. Worthy of Donation.
M Murphy
The Bible has never been of any interest to me. It would take me all my life to read it. I saw a meme on fb,"if God asked u to read the Bible, would u? It was a add for KJV. "I interpreted that as God's way of telling me to read the Bible. It's the best non gaming app I've ever downloaded. It reads the Bible to u. Has different methods to teach & help u understand the the Bible too. Also has daily prayers & inspiring quotes that are so uplifting & powerful. I love it
ESTHER AUJO
It has been hard moving with hard copy bible to anywhere you are going but now I can read it any time any where as long as I have the handset with me. It also makes it easy to refer to God's word and confirming it biblically Incase you meet falls doctrine
Dean Charles
The Good Word! Words aren't enough, such a great tool for feasting on the goodness that the Lord has given. The Bible isn't just a book, its far more than just pages and a chapter. The greatest book of all time. The rich history. All things to help us in our path.
ade john
I AM KJV Bible is an Excellent app. Well done! Can co-opt other versions eg amplified classic, new living translation, TLB and strong concordance. I like your notepad in such a way that when writing note with Bible references, I can access the references directly from my note.
Josh Vasquez
It is so realistic and encourages us . It enables us to overcome temptations. Through it we get everything. It is a sword and shield for protection. It is really indescribable..I LOVE IT. Thank you so much.
Moseray Sesay
Very easy to navigate through with inspiring daily devotion. Most of all, keeping track of your reading progress motivate me a lot to read more….
Ricky Wallace
I was downloading Bible apps but they would just come periodically with the verse of the choice of whoever was sending it with this app I can go to whatever part of the Bible I want to go to anytime I want to it is very convenient to have the word of God easy access as it is I really do like this app
Nsiime Tasha
Very helpful. Thanks for the great work of spreading the word of God. I always get a reminding notification to read my Bible ,especially on when i am busy.
Amanda Mija
I love my Daily Power Verses I recieve each morning!!! It's an inspiration for me. And there's no better version of the Bible in English than the King James Version. I love it!!!!!
GiFtOfWiSdOm
Best bible app I've ever had , absolutely love being able to switch between audio and reading seamlessly.
Jake Riffle
Great way to keep a Bible in your pocket. The Bible is the greatest collection of history books ever written. Nearly all the predictions it's made has happened so far. And there's time for the last 30 out of *i think its* 187 total predictions to happen. Wake up and read it.
frankline kaburu
To the developer, thanks a lot for this app. The search engine is so powerful, the adds also appear at the bottom meaning they don't interfere with the reading. As for me, have only seen adds when opening a new book, of which it's okay. The app has reading progress, reading plan, note book, and so many other beneficial factors that I would recommend to anyone who wants to download the app. Download it and you won't regret.
Hauwa Tense
I really enjoyed the app and the readings were clear audible and correct. Both Audio and text are available .
April VT Ruffin
Yup. It's gd . Thanks for the daily devotion aspect and the other features all gd. Ps the audio is actually great for when I'm not patient enough to read since my attention span is really limited.
Paulinus Sihawu Mhlambi
I love the KJV bible, however I was looking for an edition that provides more information, like notes and scripture comparisons for ease of studying. Thank you.
Leslie Ngolofwana
The word at my finger tips, wherever or whenever I need to dive into the word this is the app. The daily verses sent to me is an added advantage. I Love it💖💖💖
levinter Atieno
It gives you easy access to the Bible by offering daily Bible quotes. So the desire of reading the Bible comes along automatically. Just can't loose it 🙏
Agy Mak
Awesome awesome, I enjoy the audio and the voice is clear. Well done. And it moves up from verse to verse. I am blessed 💞
Tedd Redd
Man i can tell it is very good app for daily studying the bible. But the ads are the only problems,except that i loved 🥰😍 the app.
theresa olorunda
Very good app. Easy to navigate but very Annoying when the reading voice makes a joke by often saying " winking face"
Mario Piazza`
Very easy to read no disturbing ads just like having a book with all the inconvenience of the search and references of a computer
E Sandy
I have been using this app for more than a year now and it is awesome. This include morning and evening devotion, prayer etc. I love it
Adam Tree
I have been using this app for 35 days & it has kept me on track with reading. You can set a reading plan or read by yourself (saves progress). You can highlight, make notes & has a dictionary to explain less common words. The app also has a quiz, daily reading, evening reading & daily devotion reading choices. There is audio for each chapter (so far as I have read) which you can download (for offline) or stream. The ads, although small, can be a little distracting if reading from screen.
Simon nchimunya Chilwana
it's a great app except for the fact that it has too many ad's ,very easy to use,I would highly recommend it to anyone…bless.
Eriya Muwanguzi Royal
This is a priceless app. I adopted it for my default study Bible. These features endeared it to me: 1- the Notes making provision 2 – option for highlighting verses 3 – arrangement of verse by verse distinctly 4 – the provision for a noted scripture in the Notes section to be hyperlinked into the text, is beyond description a pearl. For stuff in the Notes section to be selected word by word, is beautiful but lacking in the scripture text. The book and verse display is now awesome.
Eunice Edomobi
Easy to read and understand. You can also easily find verses and books in the bible by searching a phrase or word and it will automatically show you the book of the bible.
Staffen Phectian
I have been using this app for a couple of 3 years now, and it is very easy to use, has great tools that you can use to get better understanding, and I use this app more than any other for my Bible reading.
Jayden Keller
This app is a life saver… Want to know why? Because, IT SAVED MINE!😇😉👍.P.S. also very easy to use an read. And at very little megabites. Sounds big but it's little, but spiritually saying, it's HUGE. #😇 AWESOME BIBLE.
Curtis Hill
Great, I love the bible this is great for using any where with out having to actually carry the book, as the whole bible is now on my tablet. I've very pleased. God bless us all. In Jesus name, I pray amen!
Faith Nkechi28
God's word is yeah and amen. When you're faced with life challenging and it's looking like there's no way out, fall back on God's word. It's bring hope to the simple.
Gerwyn Mudge
Overall a very good experience. I can search the Bible all day long using this app and I use it every day. Still exploring all the features but it's more than good enough for what I need.